The Ultimate Guide to your Skydiving Experience
If you're a first-time skydiver, you probably have a ton of questions about the process. How do you prepare? What's it like? Is it scary, safe, expensive? This guide was created to give you peace of mind and get you excited about this incredible adventure!
We've done our best to answer any questions you might have in this guide, but if there's one we missed, please contact us and we'll do our best to answer it right away! Want to view the virtual tour? Click here!
About Tandem Skydiving
First and foremost, you won't be in this alone. To skydive for the first time, you must be with a tandem skydiving instructor. That means that you won't actually be the one doing the work. It's the job of the tandem instructor to keep you stable in the air, pull the parachute at the right altitude, and steer you back for a soft and safe landing.
If you're looking to level-up and skydive solo, you're looking for something called an Accelerated Freefall Program. These programs are designed to get you certified to skydive by yourself. Even these programs, however, must begin with a tandem skydive.
Skydiving Requirements for your First Skydive
The first step to a successful skydive is to make sure that you can skydive in the first place! Almost anyone can skydive, but there are a few requirements that exist for the safety of both the skydiver and the instructor.
You must be at least 18 and weigh under 230lbs to skydive at Piedmont Skydiving
For the safety of both the instructor and the student, we require that all skydivers must be at least 18 years of age and weight under 230lbs. Passengers over 200 lbs. may also be required to be physically fit in order to jump. We require a photo ID to prove your age.
The Piedmont Skydiving Experience
While we know how exciting this adventure is, we also know how scary it can be for first-timers, especially when you have no idea what to expect. So, we created a step-by-step walkthrough of exactly what it's like to go skydiving at Piedmont!
This visual guide will give you a step-by-step tour of exactly what it's like to go skydiving at the highest-rated dropzone in North Carolina.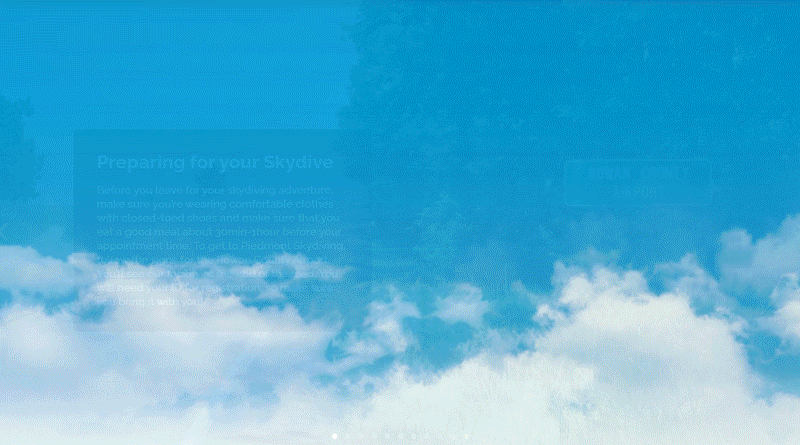 Click on the image above (or click here) to check out the virtual skydiving experience! You can also take a look at some of the videos and photos that our awesome customers have posted to get a better idea of what the experience will be like!
Frequently Asked Questions
At Piedmont Skydiving, our goal is to make your adventure as carefree and exciting as possible. We don't want you to worry about anything, so we're here to take care of everything. Below you'll find answers to some of our frequently asked questions about skydiving. If you have any additional questions, please feel free to reach out to us via email or phone! Find our contact information here.
2021 Tandem Skydiving Prices
At Piedmont Skydiving, we're proud to be one of the most affordable options for Tandem Skydiving on the east coast!
Our Location & Contact Information
Piedmont Skydiving is located in Salisbury, North Carolina, between Charlotte and Greensboro. We're just 6min off of I-85 S. Our central location makes us the perfect place for a day trip or as an activity on a weekend adventure. To get directions, copy the address below, or click on one of the direction buttons:
We're here to help!
Questions? Comments? Just feel like chatting? Contact us via email or phone! Click here to view the contact page.