A step-by-step walkthrough of what it's like to tandem skydive at Piedmont Skydiving. To view the full virtual experience, click here, or continue reading for the written version.
Preparing for your Skydive
Before you leave for your skydiving adventure, make sure you're wearing comfortable clothes with closed-toed shoes and make sure that you eat a good meal about 30min-1hour before your appointment time. To get to Piedmont Skydiving, follow the signs for the Rowan County Airport.
We've recently moved, so make sure to check out our instructions on how to get to the new facility. You will need your ID for registration, so make sure you bring it with you!
Registration & Waiver
When you arrive, walk up to the office window and one of our team members will hand you a waiver to review and sign. Make sure you read this waiver carefully and sign & initial everywhere that it asks you to. Once you're finished, return the waiver to the office. Our office staff will get you registered and let your instructor know that you're ready to go!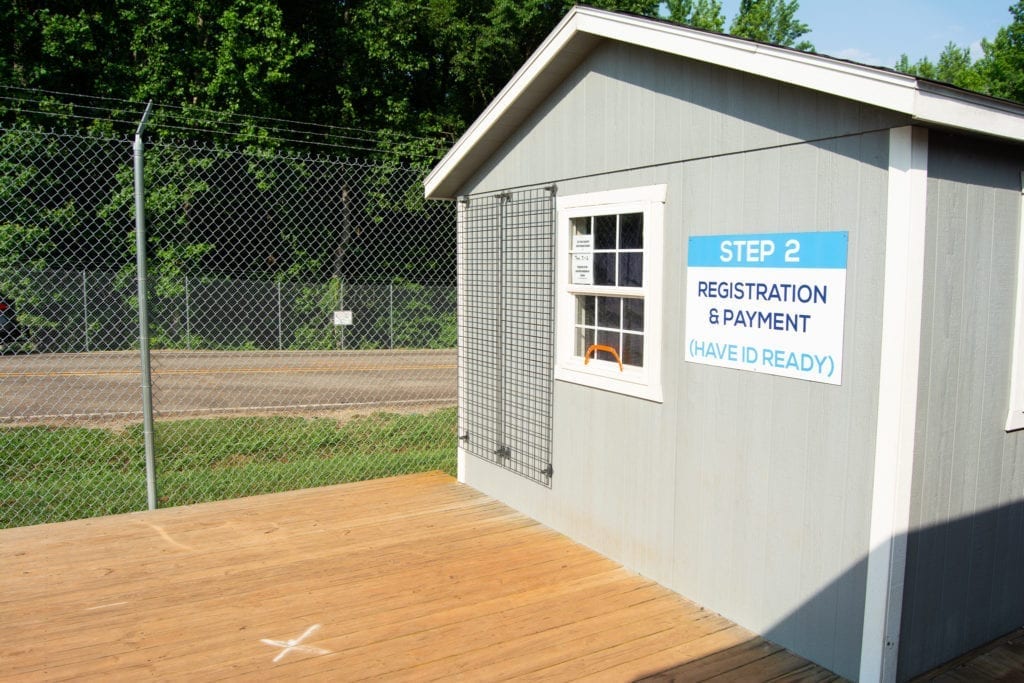 Meet Your Instructor
After you've signed a waiver, your tandem instructor will find you as soon as they're able. If the instructor is on another jump when you arrive then you might have to wait a few minutes in our shaded picnic area until they're on the ground again. They'll get you set up with all of your equipment and walk you through a 5-10min briefing on everything you need to know before you go skydiving.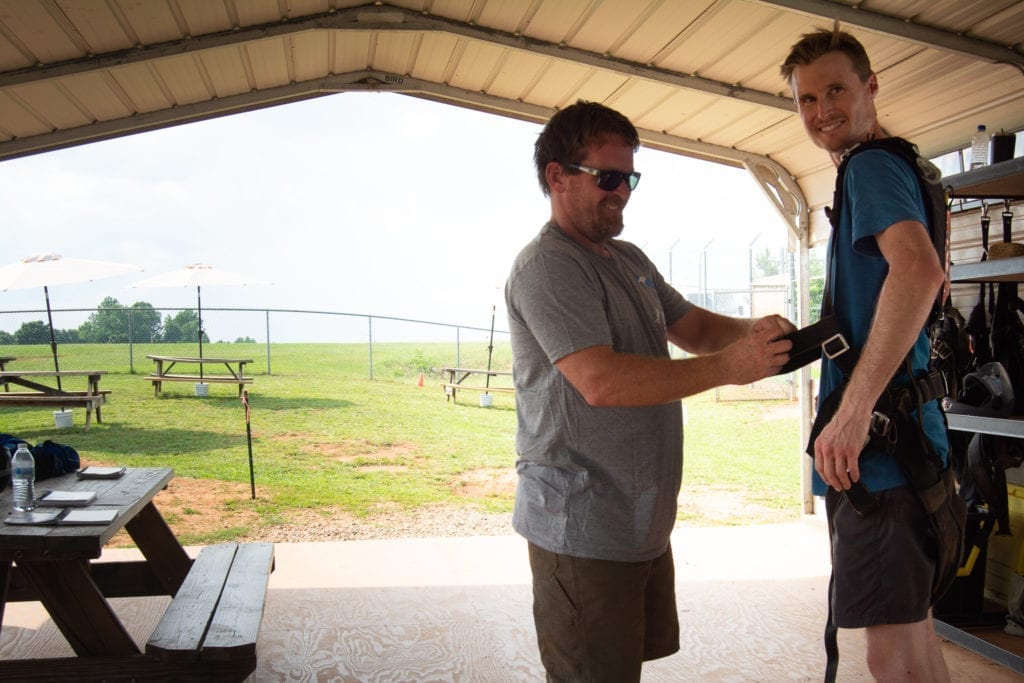 Getting Ready for Takeoff
Our staff will make an announcement 5-10min before it's time to go so that you have time to use the restroom and prepare for your skydive. When your group is called, your instructor will walk you out to the skydiving aircraft. Your instructor will ask you to sit on one of the benches directly in front of them where they'll strap your harness onto theirs and get you ready to go.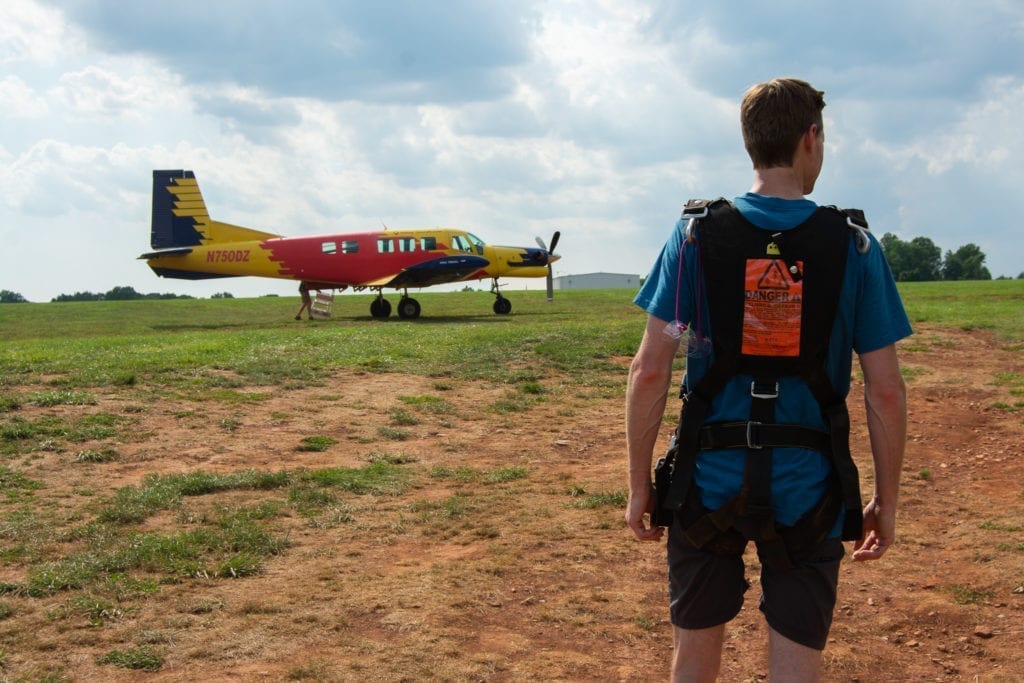 Exiting the Aircraft
As soon as you get to altitude (about 12,500ft for a normal skydive and about 17,500ft for a high altitude skydive), the pilot will give the "go" signal and one of our staff members will open the door. You'll feel a cold rush of refreshing air and your instructor will make sure one last time that you're excited and ready to go. They'll move with you towards the door, give you a thumbs up, and you'll jump out together!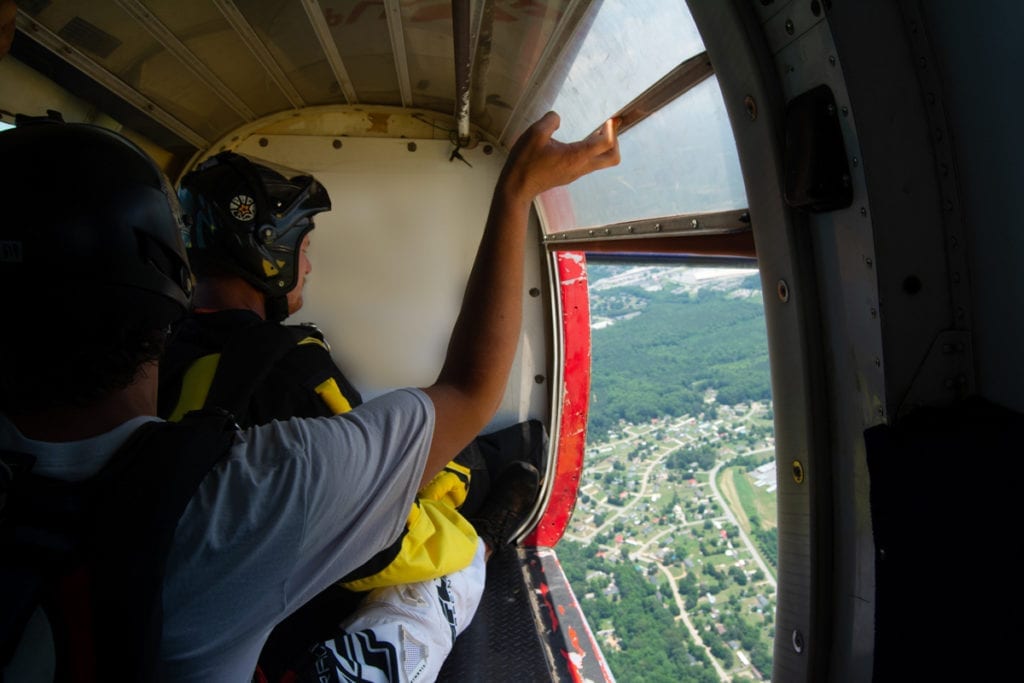 What does it feel like to Freefall?
When you jump out of the aircraft you won't feel that "rollercoaster drop" feeling in your stomach that most people expect. Instead, it's more like a turbo-jet engine full of adrenaline blowing straight at you as you fall through the sky for 45-80 seconds. And it… is… awesome. Your tandem instructor will take care of all of the hard work, so all you have to do is enjoy the experience.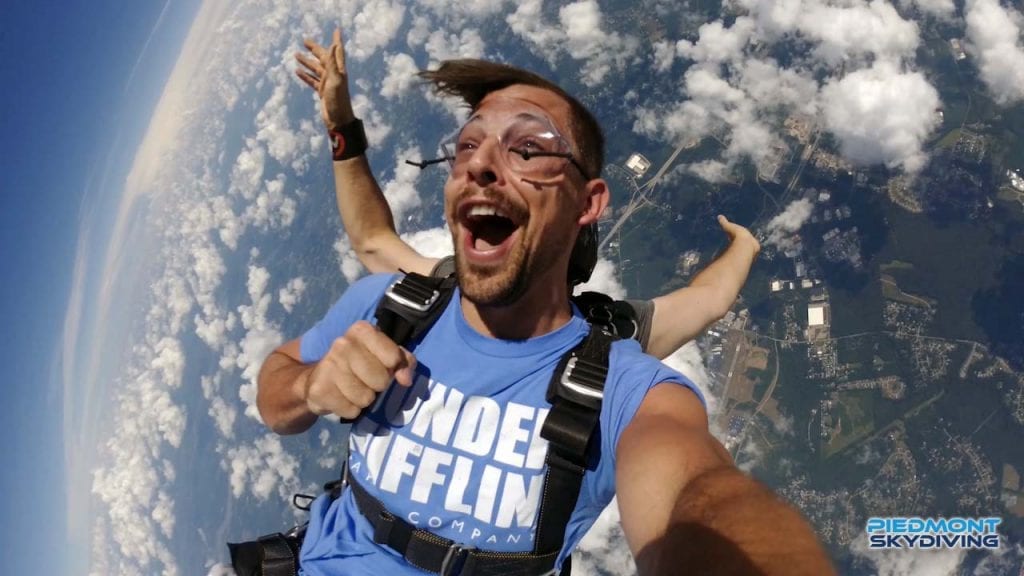 The Parachute Ride
Once you reach the correct altitude, your instructor will pull the parachute to bring you out of freefall. You'll feel a bit of a jolt, but it's typically nothing more intense than a quick stop at a stoplight or jumping off of a diving board. Once the chute is open, you'll get a 4-7min parachute ride back to the dropzone. You can ask your instructor for a calm, scenic ride back or an incredible rollercoaster ride thousands of feet in the air. It's up to you!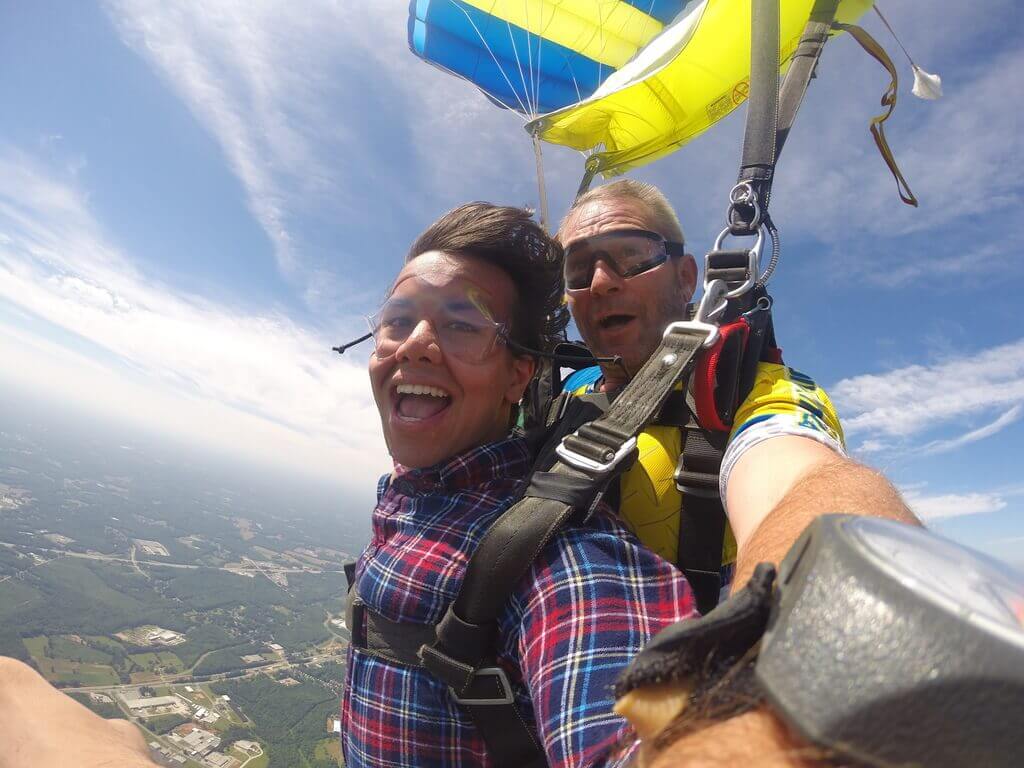 The Landing
Once you're close to the ground, your instructor will ask you to lift your feet and prepare for landing. Our experienced instructors will land you right back at the dropzone. The landing shouldn't be much harder than jumping down from a 2-4ft box. You'll be right next to the spectator area so that any friends and family who came to watch will be able to see you land!